Planning your Ontario Corporate Retreat?
Great idea! Planning a corporate retreat in Ontario can be an excellent way to reward your team, build stronger relationships, and get some work done in a unique and inspiring setting. Here are some tips to help you plan your Ontario corporate retreat with Elite Vacation Retreats.
First, decide on the purpose and goals of your retreat. Are you looking to build team morale, improve communication, or brainstorm new ideas? Knowing your goals will help you tailor your retreat activities and ensure everyone is on the same page.
Next, consider the location. Elite Vacation Retreats is located just 3 hours from Toronto and 1 hour from Ottawa, making it easily accessible for teams from both cities and everywhere in between. The luxury chalet has 7 bedrooms, providing plenty of space for your team to relax and unwind after a long day of activities.
In addition to the chalet, Elite Vacation Retreats has also partnered with a 50+ room hotel nearby with shuttle service, making it easy to accommodate larger groups. Plus, with high-speed Starlink internet at the Chalet, you can stay connected and get work done, even in the middle of nature.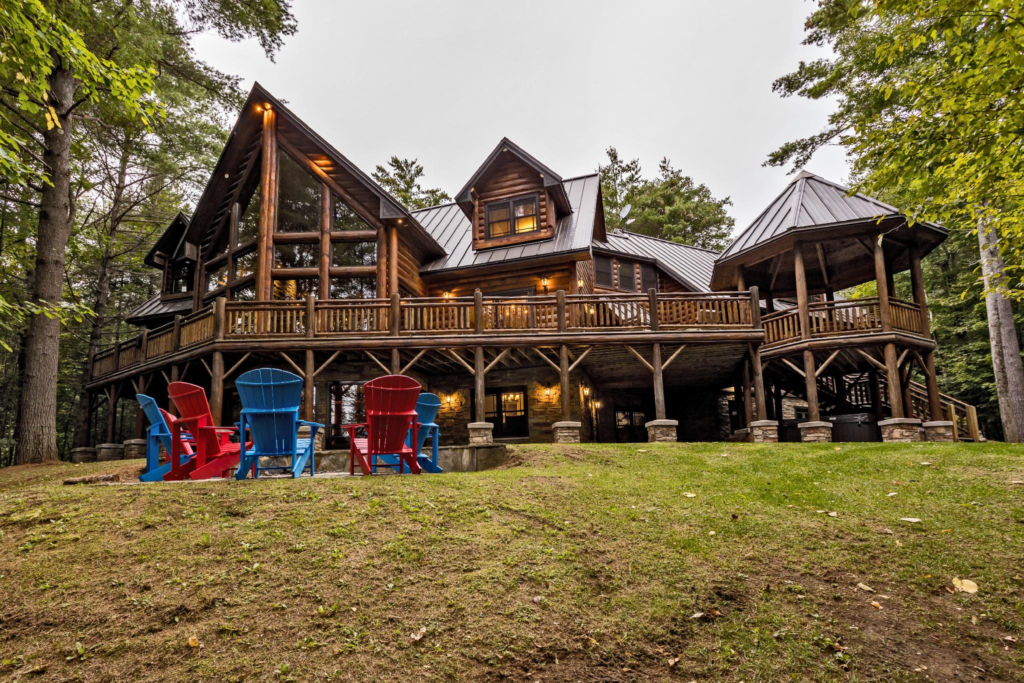 When it comes to activities, Elite Vacation Retreats has plenty of options to choose from. We offer a range of packages that include a private chef, craft beer tastings, yoga sessions, and more. Our private chef will prepare delicious meals for your group, so you can focus on team building and bonding. And our craft beer tastings are a fun and unique way to unwind after a long day of work.
Additionally, there are plenty of activities to choose from in the area. If you're visiting in the winter, hit the slopes at nearby Calabogie Peaks Ski Resort or go snowmobiling through the beautiful snowy landscape. In the summer, try your hand at watersports on the lake, take a cycling tour of the countryside, or head to the nearby race track for some high-speed fun.
Finally, consider the cost. A corporate retreat doesn't have to break the bank, and Elite Vacation Retreats offers affordable options to suit any budget. Plus, the benefits of a well-planned retreat can far outweigh the costs in terms of team building and productivity.
Alternatively, here are three other great venue options worth considering. The Westin Harbour Castle in Toronto is a waterfront hotel with stunning views of Lake Ontario and offers several meeting rooms and event spaces, along with a fitness center, indoor pool, and spa. For a chic and trendy option, the Andaz Ottawa ByWard Market is located in downtown Ottawa's ByWard Market area and has several meeting rooms and event spaces, including a rooftop lounge with panoramic views of the city. Finally, the Donald Gordon Conference Centre is situated on the campus of Queen's University in beautiful Kingston, Ontario and is an ideal venue for those looking for a professional and academic setting. The center has a variety of meeting rooms and event spaces, including a large auditorium and smaller breakout rooms, as well as dining facilities and accommodation options for multi-day events.
In summary, Ontario offers great options for corporate retreats that can reward and motivate your team.  Elite Vacation Retreats in Calabogie is a fantastic option, providing a luxurious chalet, nearby hotel, and diverse activities.  Your team is guaranteed a memorable and productive experience.
Corporate Retreats
Planning a corporate retreat? Let us help!